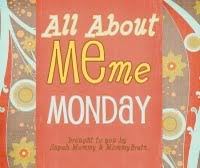 Total web-domination has really gone to
Supah's
head. Following in the footsteps of some other famous lady, this week
SupahMommy
(with a lot of help from
MommyBrain
) is launching her very own Book Club!
Tell us about yourself as a reader ... of books.
Imagine you're being interviewed by
Oprah
Supah ...
You know
Oprah
Supah asks the tough questions ...
***Taken from Supah Mommy

****

The not so exciting answers of a self professed BOOK WORM!
What are you currently reading? Catching Fire (book 2 of Hunger Games) by Suzanne Collins (OMG read it!!! Fantastic series!!!)
I will read almost ANYTHING! I do not do non-fiction though... well occasionally.
Mommy Lit: LOVE it
Chic Lit: LOVE it
Trashy Jackie Collins: LOVE it
Suspense/ Murder/ Myster: LOVE LOVE and LOVE it!
Young Adult: OMG my new and current obsession
When do you find the time to read? Whenever I can which is not as often as I like! A book comes with me where ever I go, so if there is a minute to read I do it!
Where do you do most of your reading? in the car, in the tub, and I have been know to "hide" in the locked bathroom claiming explosive stomach ailments when I just need to finish one more chapter!
How do you choose what you read? browsing shelves, catchy covers ALWAYS make me peek, friends recs, and some authors I just ALWAYS read!
From where do you get most of your books? used to be from Barnes and Noble, but now as a proud Kindle owner, they are coming from Amazon! I also love when friends pass good ones my way!
What do you do with a book after you've finished reading it? I have boxes and boxes of books because none of my friends used to read.... (The only one that did ALWAYS gives me her books)Now more friends read, so I need to make sure to pass them along!
What are your book (reading) quirks? If I am so into a book, I get mad or sad when it ends. For real. Its like going through withdrawals! It makes me feel like I lost a friend.... lol I have intense feelings for books and the characters. I either love them or loathe them...