Miss Amber has a fantastic blog and she has started the Extreme Makeover: Me Edition! As mothers we are always taking care of everyone, but we neglect ourselves! There just isn't enough time for it all. BUT we need to make that time because it helps us to be the best we can be! Amber firmly believes that we all need to take care of ourselves, because we are worth it too! Check out her blog, you won't be disappointed!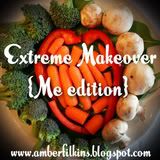 This weeks question: How are you keeping track of your achievements. How do you reward yourself when you achieve a goal?
I have a calendar where I write the days I worked out, what my work out consisted of, and it has my daily weight. It's kind of obsessive, but seeing it all written down motivates me. I do not like to see too many blank exercise days in a row.... I really have not rewarded myself with anything yet!
With all that being said, this week has been a bust (well, really two weeks!) I have been sick, I went out of town, and I have been all around unmotivated... I am planning on getting back on track tomorrow! (Today has been too darn busy!) I have lost a pound and a half though!