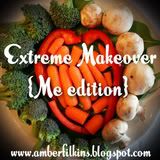 Well its that time again... Time for accountability! Why does it seem like Wednesdays come so fast?
This week I have done fairly well on the exercise front! I worked out 30 minutes 4 nights on my elliptical and I also took a Zumba class! I have slacked since Saturday though... :( I plan on getting my butt on the Elliptical TONIGHT! My eating habits stink lately! I have been craving sweets in a major way and I seem to be super hungry late at night. I have avoided all fast food though! Yay! I have been fast food free for three weeks....
This week, Amber has asked what music you work out to...
Well, I usually don't work out to music, because I typically watch TV ... If I am listening to music though it has to be hip hop with fast and pounding beats! It helps if I know all the words because then I jam, sing, and really get into it.... (Note to self: Save music for home work outs....)
I am down between a half a pound and a pound.... So not bad, but not where I want to be! Hopefully these snack cravings subside soon!