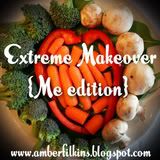 Well its that time again... Time for accountability! Extreme Makeover: Me Edition! Amber must have read my mind, because I was way off track this past week... I had way too much candy, way too many snacks, and NO where near enough water! This weeks question is how am I going to get back on track....
Well, the weather is supposed to be nice, so I will be walking and running with the kids for sure! The place I take my kids for open gym is starting a Zoomba class tomorrow night, so I am trying that....
Goals for the week:
Drink more water

Elliptical 3 times

Walk as much as possible!
I hope I can finally get on track and get moving!